The explosion in March robbed Oksana, a nurse from Lysychansk, of her legs – but not of a wedding.
The parents of two decided to tie the knot last week in a Lviv hospital ward, deciding that "life should not be postponed".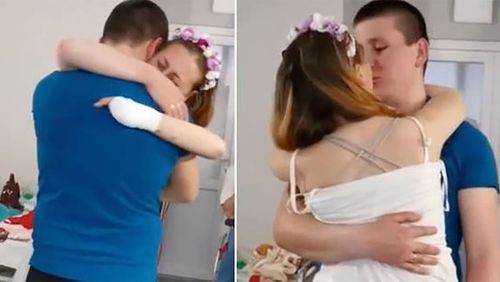 Four weeks into the war, the 23-year-old was walking ahead of her partner, Victor, in their
Russian-occupied
neighbourhood of Luhansk when the mine went off.
"I fell down with my face on the ground, there was extreme noise in my head," she said.
Victor, who was nearby, was uninjured by the explosion.
"I wanted to cry but I couldn't cry, I was shocked," said Victor.
"I could not comprehend what was happening, it was terrifying to almost lose the person I love."
Taken to various hospitals as the war raged on around them, Oksana had both her legs and four of her fingers removed.
"I did not want to live, I did not want to live such a life," she said.
"I have two children. I did not want them to see me like this."
Oksana said it was the unwavering love of her family which kept her going.
"I need to keep living, if God left me alive, that's my destiny."
The Lviv Medical Association told Sky News UK it bought the couple rings and found Oksana a white dress, and volunteers baked a wedding cake for the celebration in the surgery centre.